Companies that are doing well tend to deliver solid returns for investors, that's no secret at all. Importantly, when financial performance is accelerating and expectations for the company are on the rise, this can generate explosive gains over time.
Using commercially available data tools, investors can easily build a solid quantitative system based on momentum investing. Backtested performance for this particular system is downright impressive.
In addition, I will take a look at Alibaba (BABA), a long position in my personal portfolio and a compelling alternative selected from the system.
A Powerful Momentum System
The quantitative system begins with a screening process, meaning that only companies that meet a specified criteria will be considered for inclusion. The selection criteria is as follows: Earnings expectations for the current year are currently higher than they were eight weeks ago.
Similarly, revenue expectations for the year also are higher than they were eight weeks ago.

Revenue growth needs to be above industry average levels.
The stock needs to be outperforming the industry, both over the last 26 weeks and over the last 52 weeks.
Among the companies that meet the screening criteria, the system invests in the best 50 names based on performance acceleration. This means that we are not simply looking for companies with strong growth, we want growth rates in sales and earnings to be gaining speed in comparison to prior years and quarters.
Backtested results are nothing short of outstanding. Since January of 1999 the system generated an average annual return of 25.4%, downright obliterating the S&P 500 index and its much smaller annual return of 3.85% in the same period.
To put the numbers in perspective, a $10,000 investment in the S&P 500 index in January of 1999 would currently be worth around $202,000, while the same amount of money allocated to companies in the quantitative system would have a current value of nearly $6.8 million.

All data and charts are from Portfolio123, and the full list of companies in the screen will be regularly updated for subscribers to my research service, The Data Driven Investor.
Case Study: Alibaba
Alibaba doesn't need much of an introduction. The company is the top player in the e-commerce industry in China thanks to its two main portals: Taobao focused on C2C transactions and Tmall for B2C operations.
In addition, Alibaba is a leading player in digital payments with Alipay, and it also has a sizeable presence in cloud computing and digital entertainment, among many other segments where the company operates.

Alibaba is a true giant. The company is expected to make $36.29 billion in annual revenue during the current fiscal year, which is fiscal year 2018 for Alibaba.
Growth typically slows down as a company gains size over time, but that doesn't seem to be much of a problem for Alibaba, since management is expecting revenue growth to be between 45% and 49% during the current year. Wall Street analysts seem to agree, the average growth estimate for the company stands at an expected revenue increase of 48.7% for fiscal 2018.
Nevertheless, growth and momentum are not necessarily the same thing. A company can be growing rapidly, but if the stock is priced for aggressive growth expectations, this means that those growth rates already are incorporated into investors' expectations.
On the other hand, when the company is outperforming expectations and estimates are on the rise, this generally has a major positive impact on the stock price performance.
The following chart shows Alibaba stock price in combination with revenue and earnings forecasts for the current fiscal year. You don't need a PHD in economics to understand why these variables tend to move in the same direction over time.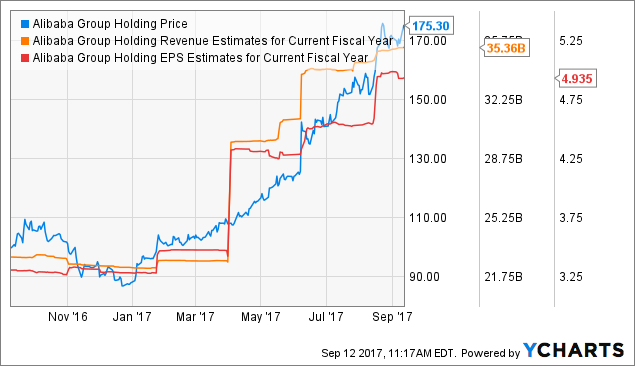 BABA data by YCharts
Alibaba generated 86% of total revenue from the core commerce segment last quarter, this division includes all e-commerce operations inside China and on an international level, as well as related activities. Sales in this much important division grew 58% year over year during the quarter ended in June. The number represents an acceleration versus annual growth rates of 47%, 45%, and 41% during the quarters ended in March 2017, December 2016, and September 2016, respectively.

The company's multiple business segments are clearly doing quite well, indicating that momentum is widespread across the business. This is a major positive when evaluating Alibaba's ability to sustain performance going forward.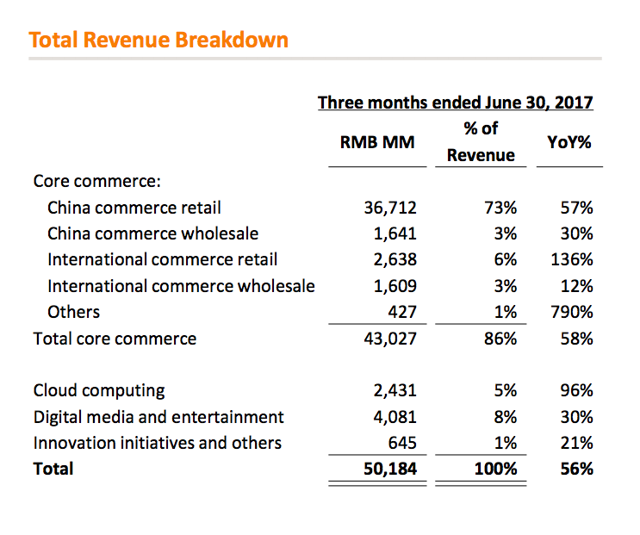 Source Alibaba.
From a long-term perspective, Alibaba has benefited from powerful tailwinds, as the company operates in industries offering abundant room for expansion, and the rise of the middle class in China and other emerging markets should drive growing demand for online commerce, digital payments, and online entertainment in the years and even decades ahead.
The competitive landscape is quite dynamic, but Alibaba benefits from rock-solid competitive strengths due to factors such as scale, brand recognition, and access to financial resources.
Besides, the network effect plays a key role in businesses such as online commerce and digital payments. Users want to go to the platforms where they can find more and better opportunities, so buyers and sellers attract each other to a leading platform such as Alibaba.
It won't be easy for the company to keep outperforming expectations in the future, as a high bar is difficult to beat. However, it's good to know that Alibaba is well positioned to continue delivering vigorous growth in sales and earnings as long as management plays its cards well.
Disclosure: I am/we are long BABA.
I wrote this article myself, and it expresses my own opinions. I am not receiving compensation for it (other than from Seeking Alpha). I have no business relationship with any company whose stock is mentioned in this article.


Go back to PandaPosts.com homepage.